Say Hello....Wave Goodbye!!!! 14.07.20
They came as tiny people and look how much they have changed and grown!! Goodbye and GOOD LUCK to all our Year 2 pupils. This special video is just for you...
Stars of the Week 10.07.20
Starting in Reception in September? 09.07.20
Is your child starting school at New Mill? Are you/they worried about it and wondering what it will be like? This is the video for you. Mrs Barrow shows you what will happen when you arrive and where to go. You can meet the teachers and see some usual Reception activities. Feel free to watch it as many times as you like and have a really good chat about it with your child.
Transition Assembly 06.07.20
Get your hairbrushes ready and your dancing shoes on!!! 04.07.20
We are making music this week - our own special kind...
Monday Madness!!! 29.06.20
Have you got the Monday blues??? Feeling a bit fed up today?? Perhaps this video from your teachers will help make you smile...
Stars Of The Week 26.06.20
Father's Day Assembly 22.06.20
A Colourful Message from your Teachers 19.06.20
Stars of the Week 19.06.20
No technology issues this week. Hurrah!!! Here are the Stars...
Stars of the Week 16.06.20
We tried something new last week - a live assembly via Microsoft Teams in school. Unfortunately the recording was not suitable for the website so we had to record it again. Here is the new improved version...
Assembly - Superheroes 15.06.20
A Message From Your Teachers... 05.06.20
It's that time of the week again.... Time for Friday madness!!! This week it appears that all the teachers should have gone to Specsavers!!...
Wondering what has changed?? 4.06.20
Is your child coming back to school next week and are you wondering what it will be like? Are you feeling a bit anxious about it? We have made a video to show you and your child what is new and different, and to hopefully remove some of your worries...
Stars of the Week 04.06.20
This is the video for the final week before the half term holiday. Apologies for the delay again... More technical issues!!
Another Message from your Teachers. 22.05.20
This could be the best one yet?? What do you think??
Friday Assembly - Courage 22.05.20
A HUGE Thank You from All of Us!! 22.05.20
Oh my goodness!! This little video has really put a massive smile on our faces today and brought a tear to our eyes at the same time. It has been made by a group of pupils and parents in reply to the funny little video messages we have been making. Thank you so much, it means a lot to us and has really raised our spirits.
Stars of the Week 20.05.20
Apologies for the delay everyone - technology was not co-operating with us this week. Here is the video..
A Message From Your Teachers 15.05.20
Tissues at the ready... This one is LOVELY. (Stars of the Week will be posted at the beginning of next week).
Friday Assembly - Gratitude 15.05.20
Stars of the Week 08.05.11
Here are this weeks home learning "Stars of the Week"...
Another Message from Us to You 08.05.20
These just seem to be getting better and better. In this one some of the pets have a starring role and there is an appropriate guest appearance from an ex-member of staff. (Please note: this weeks Stars of the Week video will be posted at the beginning of next week).
A Message from Everyone at New Mill Schools... 04.05.20
Here's another video from us to you to cheer you up and make you smile. We hope you enjoy it...
Stars of the Week 01.05.20
Here are this weeks home learning "Stars of the Week"...
This Week's Virtual Assembly 01.05.20
Please enjoy this weeks assembly from Mrs Barrow and her helpers - the theme is "Kindness".
Concerned about Wellbeing? 28.04.20
Do you have worries about how your child is coping with the current situation ? Are you concerned about your own stress levels? If that is the case then follow this link to a useful document about how to manage your own anxiety levels, support your child or get support if you need it.
Virtual Assembly Time 24.04.20
Mrs Barrow has been busy again and this time with the help of some friends. Enjoy...
A Message From Everyone At New Mill Schools 24.04.20
Mrs Barrow decided she wanted to to make a video from all of us to all of you, just to let you know how much we are missing you and how much we are looking forward to seeing you all again. This is Mrs Barrows first ever video - I think she has done an amazing job!! Hope it makes you smile!!!...
Conversion to Multi Academy Trust 01.04.20
Please find below a letter confirming Wooldale Junior School's conversion to become part of Learning Accord Multi Academy Trust....
Messages of Support and Encouragement 30.3.20
Before school closed, Owl class wrote some amazing postcards with messages of love, care and support with a plan to send them out to local keyworkers. The good news is they have been received and highly appreciated. Well done Owl Class.
Message from Mrs Barrow 25.3.20
Dear Children,
I hope you are all ok and keeping yourselves safe and well at home. I know these are strange times and it must feel very odd to be at home and yet not really on holiday and not able to go out and see your friends and family. I am sure that this and the worried faces of the adults around you and the things you are hearing on the news are making you feel anxious. That's ok, everyone is feeling a little anxious at this time and it is a perfectly normal response to what is happening around us. It is important to talk to a trusted adult if you are feeling worried and they will help to explain and reassure you. I will be sending out some information for parents to share with you that might help. You might want to write down or draw a picture of your feelings in a journal too.

All the teachers and I are missing you and your lovely smiling faces and are missing the great conversations we share and the learning we love to do together. They are all working very hard to keep in touch with you through Class Dojo and emails wherever possible so you know we are still here and thinking of you. They are always happy to hear from you and to see the lovely pictures of the work and activities you are getting up to at home. I feel like I was just getting to know you and you've all disappeared but I am sure it won't be long before we are all back together again.
It has been great to hear from all the teachers about the number of you who are having a go at the activities they have sent out. I know it must be very strange trying to do things at home and even more strange having mum or dad trying to teach you. Be patient with them I know they don't do it quite like your teacher does but believe me they are trying their best.

I know the teachers keep sending lots of new things please don't think you have to do everything they send. Just do what you can, a little bit is better than nothing and will mean you are ready to learn and go further when we are all finally back together. I also heard that sometimes the Class Dojo is not always working so teachers are trying to email you instead we are also looking at other ways of setting you work and activities while we are apart.

Your parents don't like having to say no to you meeting friends or going out to the park either but Mr Johnson our Prime Minister has given everyone instructions that they must stay at home unless they are working in essential industries or in hospitals helping to keep everyone well and well fed. Some teachers are also looking after the very small number of children who have mums and dads who work in these critical areas and trying to keep them safe too. Everyone is doing their bit and you are doing your bit by staying at home and keeping away from others.
It has been wonderful on my drive to and from school to see all of your lovely rainbows in the windows. The rainbow is a symbol of hope and a promise that there are better things ahead. Let's remember that.
I will stay in touch with you and your Mums and Dads.

Take care and stay safe.

Mrs Barrow
Coronavirus Update 23.3.20
As you are aware school is temporarily closed for the time being. This closure is intended to support efforts to contain the virus.
We are providing childcare for children of key workers and other vulnerable children at New Mill Infant School. This is to keep children safe and to allow key workers to care for the sick or to keep supply chains running. If you are a key worker but not currently at work, please keep your child at home to prevent the spread of infection to other children and staff and follow the social distancing guidelines.
Every child who can be cared for safely at home should be. If your child is not in school then follow the social distancing guidelines. Parents should do everything they can to ensure that children are not mixing socially in a way that could spread the virus.
If you are a key worker and your child or someone in your household becomes unwell, follow the the Government guidelines regarding self isolation. Do not bring them to school.
Thank you for your cooperation and continued support at this difficult time.
Safer Internet Day 2020 24.1.20
11th February is Safer Internet Day. Each class has appointed a Digital Leader to support them with ICT issues. The Digital Leaders have been running a "Design Your Own Avatar" competition and will be holding an assembly in school. See our Safer Internet Day Certificate below...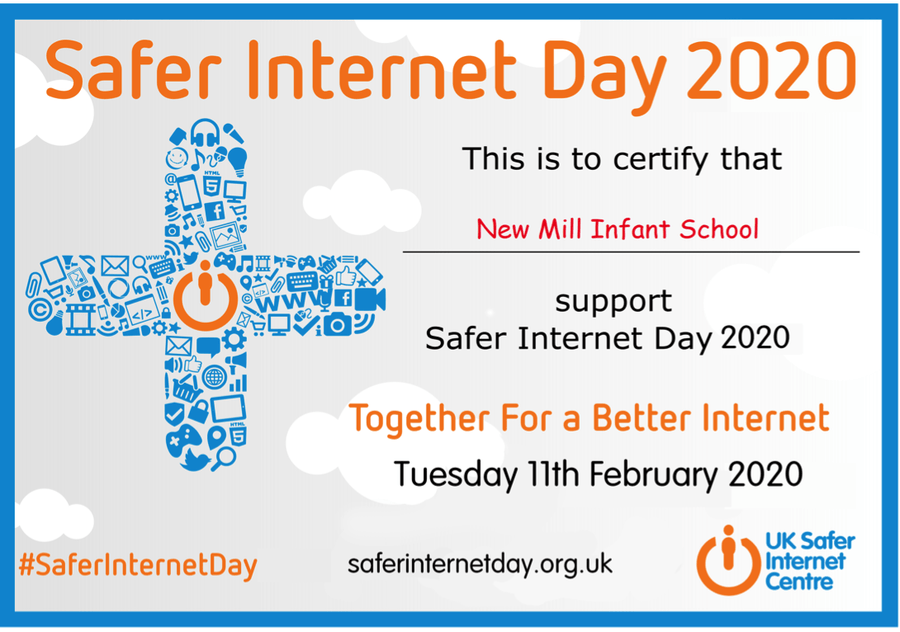 New Year, New Beginnings, New Head Teacher 6.1.20
Welcome back to a new school term. It's looking like it's going to be an exciting year for everyone at New Mill Infants. Our first exciting event has been meeting our new interim Head Teacher - Reverend Mrs Evelyne Barrow. Please have a look at our first newsletter of the year to find out more about her. We would like to offer her a big, friendly "Welcome" from everyone at New Mill Infants.
Remembering others at Christmas... 19.11.19
Christmas is traditionally a time of giving. Are you able to help other local families this year? Please read the poster below to find out more...